Dear friends,
Welcome to 2023. Looking back on the past year, we have many reasons to celebrate. We began our plan to grow faster and increase our impact and it's exciting to see that we're already reaching more children and youth. We've also been extending our programs to help foster families, kinship care families, and young people in the community still at risk of homelessness.
We are excited to share Lighthouse's 2021-2022 Annual Report, which highlights the incredible work that's been done in the last financial year. Please download the report and have a read through here.
Last financial year, 71 babies, children and youth were cared for in our programs, and we are already over that mark in the current year. We've commenced our new Community Connect pro-active outreach program in the North. 2023 will see this youth homelessness intervention program expand to other parts of Victoria, including the Mornington Peninsula, and we are gathering new supporters for this urgently needed program. Two new Lighthouse homes were added last year, at Clayton and Frankston and our Foster Care Hub Program was relocated with the help of a volunteer workforce.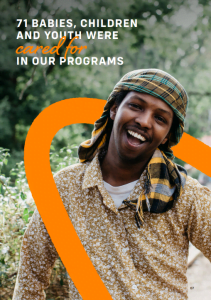 So what's next for Lighthouse? We have been working on some major collaborative sector partnerships to deliver future building projects and care services supports. We look forward to announcing several of these projects in the coming year. We are going faster, and responding with increased energy to the challenges faced by youth vulnerable to homelessness, and children in need of family support and foster care. With your help, we are set to make a real difference in 2023.
Our young people continue to make us proud as they gear up to return to school, or to take on their first jobs. We hope you can share our joy as they heal and thrive, and take steps towards independent living. I wish each one of you a happy and healthy New Year, it's because of supporters like you that we're able to do the important work we are doing to end youth homelessness, together.
With best wishes,
Dr Eamonn McCarthy, CEO