We're extremely excited to launch our fresh brand identity and delivery framework
Over the past 31 years, we have shown that the Lighthouse Model of Care is highly effective in permanently ending homelessness for those who find a place in our homes. In recent years, we have been able to expand our services to provide early interventions that prevent homelessness and  Lighthouse Foundation now has the capacity has to provide a variety of pathways, from infancy to adulthood, to meet the individual needs of the vulnerable children and young people in our care.
All strategic and operational plans are based on the organisation's mission, vision, and values. Lighthouse has always remained committed to its core values based on 'respect, courage and kindness' and in caring for children and young people in line with its original vision of "ending youth homelessness together".  However, our strategy has been to expand our services and we have been challenged in finding a suitable mission statement that not only identifies and clarifies the totality of Lighthouse's services, but also grabs the attention of our funding audience and the broader community.
Reviewing Lighthouse's brand identity and ecosystem of care
Earlier this year we were delighted to partner with Hulsbosch, who over the last forty years have been responsible for creating Australia's most iconic brand identities and consumer pack designs, including one of our key supporters QMS.
Through an in-depth immersion of Lighthouse, Hulsbosch have been pivotal in defining our new brand identity including a brandmark refresh, image style review, revised typography and defining  all programs to bring everything together in a clear delivery framework. We wanted how Lighthouse is represented to really speak to our young children who are at the heart of what we do.
Our brandmark has a very special meaning for Lighthouse as it signifies a house of light in which all children can feel loved, safe and supported. The child-like illustration was originally designed by the late artist David Band in 1996, with each element of the home representing a child's journey in our care. It was in these humble beginnings we started to visually articulate what Lighthouse represented.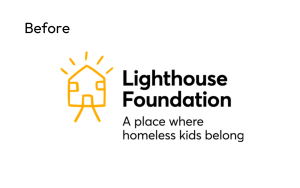 The pathway to the home is to give a guideline to those in darkness, seeking safety and care, with our door always open to welcome them. The windows show that we keep watch over our society and of our children, with the shining beams radiating from the roof representing the positive life-changing outcomes of our programs, as our young people transition to happy adult lives. Our updated house of light is now contained within a circular graphic and it will enhance visibility and also ensure improved legibility.
Our revised brandmark from 'A place where homeless kids belong' to 'Foundation for Youth' allows us to speak to the expansion of our programs. Whilst childhood focused services are nurtured around early interventions that prevent homelessness, youth is at the heart of everything we do. One of the other key additions to our new brand identity is the graphic pathway, which represents our continuous journey to end youth homelessness.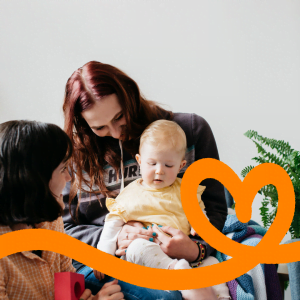 Our imagery style really focuses on our young people, while celebrating their stories throughout a journey with Lighthouse Foundation. The brand narrative photography style is genuine, real and authentic. Additionally the use of new typography provides a powerful visual link that represents our ambitions, trust and aspirations.
With the updated Lighthouse brand identity and clear delivery framework we ambitiously and optimistically look ahead to continue bringing our mission of providing children and young people who are homeless, or at risk of homelessness, with the care and support they need to heal and thrive. We are extremely grateful to Hulsbosch for their hard work & dedication in bringing this pivotal part of Lighthouse's journey to life.
"This will help us bring much-needed attention to the blight on our community, whereby thousands of the most vulnerable children and young people are not receiving the quality of care they need"
– Susan Barton AM, Lighthouse Foundation Founder