"I feel incredibly well supported. A lot of organisations just talk about how they support their employees but Lighthouse actually does it really well."
Meet Our Carers
Meet Wendy and little Emilie- one of our lovely Carers and bubbas from our Vicki Vidor OAM Young Parents & Babies program. Wendy, a mother of four herself, has been with Lighthouse for a number of years now acting as a role model and pillar of support for many of our young mums. By modelling a loving environment, Wendy helps the girls learn how to raise their baby- with love and nurture- so that both mum and bub continue to thrive and grow, ultimately reaching their potential. We're so lucky to have incredible people in the world like Wendy join our cause- helping to change young lives and future generations to come every single day.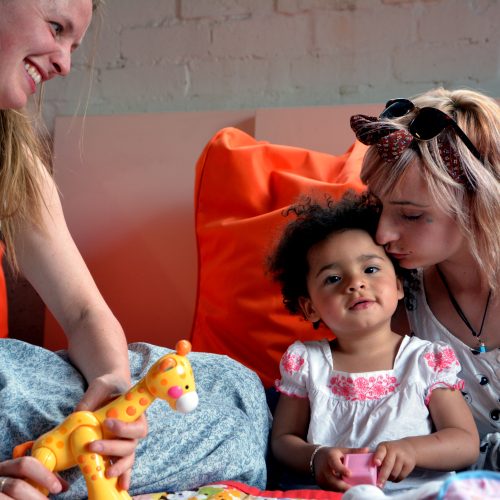 Mikaela has been a carer at Lighthouse for a number of years now, primarily working in our homes supporting young mothers and their babies- referred to internally as our 'mums 'n' bubs homes'. We caught up with Mikaela to find out more about what it's like to work at Lighthouse and what are the most rewarding aspects of her role.
Q: How did you come to be working as a carer with Lighthouse?
"I came to Lighthouse initially to work as a receptionist. At the time, I wasn't particularly committed to the idea of working with anyone long-term, but then I fell totally in love with the space and the people and the way everyone works here. I eventually applied for the role of respite carer and started doing that as well as the receptionist job, and then dropped reception so I could become a full-time carer. Lighthouse has been revelatory for me. It's totally unique. For the first time in my life, it feels like all the things that I believed in my gut have been given a name and a practice. This is an organisation devoted to teaching human connection and demonstrating how consistent love and care are so important for healing people."
Q: What is it like working for Lighthouse?
"I feel incredibly well supported. A lot of organisations just talk about how they support their employees, but Lighthouse actually does it really well. They understand that, as carers, we can't give to the kids in the way that we need to if we're not in a good space ourselves. So we have access to constant clinical, peer and moral support."
Q: What are the most rewarding aspects of your job?
"When one of the kids starts to open up and chat with us for the first time; or when a young person smiles at you, when they would have found that too scary to do before; or when someone voluntarily clears away their plate after dinner without you having to ask them to do it for the 77th time. Those subtle gestures are when you know they're finally starting to accept this place as their home and respect you as part of that. Suddenly these positive little things start to happen and they build up. That's when someone's ready to begin the healing process. I get so much from this work; it's not just a selfless act – there is so much love and joy from coming to work every day. It's totally humbling and inspiring and I'm so lucky to do what I do."
Asan had been living in our Bonbeach home for about a week when his carers noted the impeccable way he made his bed each day, carefully placing the cushions in their original positions, without a wrinkle in the bedding. The truth eventually came out: he had been sleeping on the floor. "This floor, this warm carpet, this room that has a door I can close ... is all I need," Asan told the carers. "This is the best I have ever known. You can put another person in that bed."
It took many hours of counselling to help him understand that he was worthy of sleeping in the bed – and worthy of making the best of his true potential. The large suitcase, which Asan had apparently found abandoned just before entering the home, also proved to be nothing more than a container for the usual small plastic bag of possessions.
Over time, he developed a close and trusting relationship with the full-time male carer in the home. One of Asan's ongoing issues was dealing with anxiety. He also had to overcome severe insomnia and frequently woke in panic, covered with sweat. The traumas of his past needed to be worked through with the help of the experienced
team at Lighthouse.
During the 18 months he lived with us, Asan found somewhere he could heal, pursue an education, and thinking about his future career. He made friendships, improved his English, and found mentors within the Lighthouse community. Over time, his brilliant smile and his natural, sunny personality began to emerge. His English improved rapidly and he loved to chat. He taught the carers and his housemates how to cook dishes from his homeland and led several fishing trips to the nearby river.
One of Lighthouse's corporate supporters offered him an apprenticeship in an auto workshop, which he enthusiastically accepted. Unfortunately, he only lasted one month in the position. He began to be late to work, was tired and lethargic, and found the technical systems difficult to manage. Asan felt that he had let everybody down and fell into a depression. After more counselling from his care team, he agreed to enroll in a professional barista course at TAFE. He excelled in the course and its practical work experience placements. As a chatty 'people person', he was ideally suited to working in hospitality and customer service, rather than being in a technical workshop. Once a qualified barista, Asan found work in a café and grew in confidence to the point where he successfully transitioned to independent living.
Asan's uncle, one of his few living relatives, immigrated to Australia and established himself in Sydney. Asan moved there to live with him and soon found a permanent full-time job in a café. He still keeps in touch with his old household at our Bonbeach house and has regular phone catch-ups with the Lighthouse Outreach team. During some of his early outreach conversations he shared his dreams about one day running his own business with a coffee cart or café. We are delighted to report that Asan's latest news is that he has just launched his own small hospitality business.
"I feel incredibly well supported. A lot of organisations just talk about how they support their employees but Lighthouse actually does it really well."
We chatted more to Carlos, who is one of our Primary Carers in a Lighthouse home about his challenges and triumphs of working as a Carer.
"When one of the kids starts to open up and chat with me for the first time; or when you find something that connects you, allowing the young people to share their triumphs and dreams. It can be really simple things like having breakfast together, or playing the guitar or going to the skate park."
"The hardest thing is how personal it feels living with traumatised kids. It's not just a job; it's a really connected experience. We're not scared of connection and attachment at Lighthouse - that's our driving force. In a lot of organisations you're not allowed to hug kids, and yet this is so vital for helping them to learn to trust and re-connect with other human beings in safe and appropriate ways."