Earlier this year, our dedicated partners at McCormack went over and above to completely revamp our Youth Resource Hub in Cremorne to place a greater emphasis on our Young People and facilitating future growth. As a result, we now have increased capacity and dedicated spaces for collaboration and community events, and the number of clinical, care, and administrative teams operating from the centre has increased. These spaces will allow us to hold more group activities with our Young People like art therapy and cooking sessions, as well as having a dedicated youth-friendly 'chill space' downstairs. We want any of our Young People, past or present to be able to walk in at any time and feel comfortable.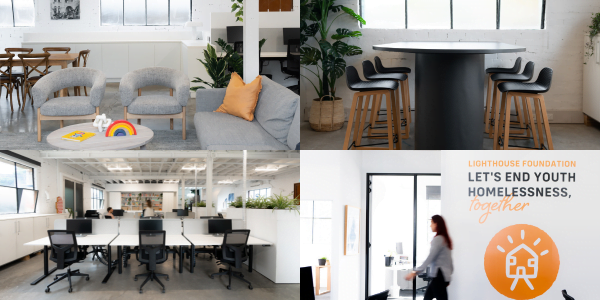 As well as fresh paint, rooms and carpets, the interior was further revamped with new furniture, decals and décor to create an inviting atmosphere, instilling a sense of warmth and comfort for our Young People while also enhancing the functionality of the space.
To see the amazing transformation by McCormack, watch the video created by Third Space Studios. We are truly thankful that our Young People can now experience a greater sense of belonging in this rejuvenated environment.
In addition to McCormack, we are so grateful to our partners below who also helped make this refurbishment possible thanks to their incredible generosity:
–Loti and Victori Smorgon Foundation for gifting us our Youth Resource Hub space many years ago
–Pinnacle Charitable Foundation and Spheria Asset Management for providing funding for the project
–T.House, Provincial Home Living and HOW Group for contributing exceptional furniture and décor
–StudioHawk for offering us their office space to work from during the refurbishment
–Third Space Studios for creating a video to capture moments before and after the refurbishment