Lighthouse is excited to come together to celebrate Foster Care Week 2023. This year's theme, 'Heart of Gold,' couldn't be more fitting as we acknowledge and honour our incredible Lighthouse foster carers.
A Heart of Gold
Foster care is a calling that demands an immense heart, unwavering dedication, and boundless compassion. It's about providing a safe haven for children who have experienced adversity and instability, often through no fault of their own. Our devoted foster carers offer more than just shelter; they provide love, stability, and a nurturing environment that is absolutely crucial for a child's physical, emotional, and psychological development.
At Lighthouse, we appreciate the extraordinary contributions of our foster carers every day. However, this week, we have some special plans in store to demonstrate our gratitude that we will share over the coming days.
Lighthouse Foster Care: Making a Difference Since 2019
In addition to celebrating our exceptional foster carers, we also want to seize this opportunity to educate and raise awareness about our Foster Care program. Since its launch in 2019, our program has achieved remarkable milestones, thanks to the tireless efforts of our dedicated foster care team and the loving families that open their doors to those in need.
Some impressive statistics showcase the incredible work that has been done: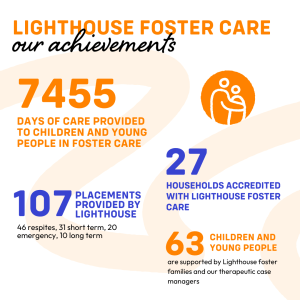 The whole Lighthouse Community stands proudly beside our foster carers and their families, offering unwavering support and guidance to create such impactful change.
We would like to thank our dear friends at Brand Laundry for being an incredible pro-bono partner for our Foster Care Week 2023 campaign. Casey and the team generously donated their graphic design expertise and creativity to bring our FC 23 Campaign to life, check out more of our campaign below.